Custom Actions: 30:00 to 60:00 Minute Mark

Custom actions allow you to add buttons to the softphone or the call log. The custom buttons can be configured to transfer calls to a specific phone number or specific agent automatically, or can act as shortcuts to perform specific tasks.
Creating a Custom Action
Navigate to Settings → Custom Actions.
Click New Action on the right side of the toolbar at the top of the page.
Enter a name and description for the custom action.
Click Add Action and select the action you'd like to occur when the button is clicked.

Tag Call (limited to three tags) / Remove Tags
Assign Agent to Call
Add to /Remove from Auto Dialer
Run Lambda Function
Add /Remove Conversion
Update Reporting Tag
Score Call (star rating)
Send Analytics Event
Send Bing Event
Send Text (text message rates apply)
Add to Upcoming Scheduled Text
Update Custom Field
Transfer Live Call

If you wish to make your custom action available on a live call, check the Live Calls box in the upper right corner of the custom action panel.
Click Save Changes.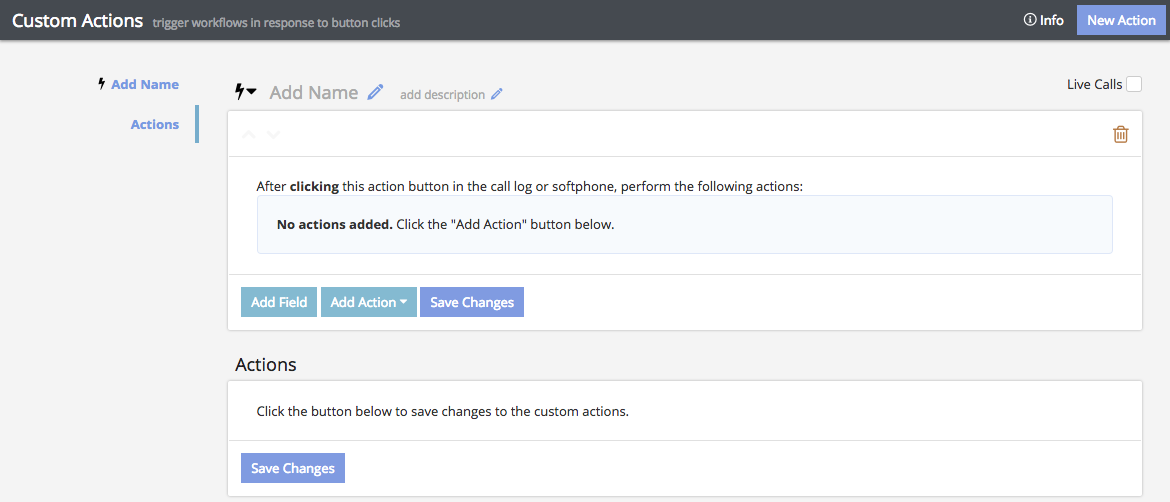 Removing a Custom Action
Custom actions can be deleted at any time using the orange trash can icon to the right of each action on the custom actions page. Click Save Changes to confirm.